DASH is an elite esports performance-enhancing mousepad. Thanks to the unique low-friction hybrid F15 surface, experience fast mouse glide whilst maintaining excellent control. It's built on top of solid natural rubber and is surrounded by an industry-best stitch.
MEDIUM: 360x280x3mm is the ideal size for compact gaming setups
LARGE: 487x372x3mm provides generous space for large mouse movements
X LARGE: 475x475x3mm provides generous space for the largest mouse movements as well as full forearm and elbow support
XL DESK: 950x500x3mm provides generous space for the largest mouse movements, supporting your full forearm and elbow, as well as hold a full-size keyboard.
Customer Reviews
Write a Review
Ask a Question
20/07/2021
Anonymous

United Kingdom
I recommend this product
Nice
Enjoyable experience
19/07/2021
Anonymous

Malta
I recommend this product
Amazing Mouse Pad
Had great glide with ptfe feet and havent had any issues with tracking after about a month of use
Thank you for letting us know that our Dash is serving you well. #ALWAYSFNATIC
09/07/2021
Anonymous

Estonia
Fnatic Dash XL Desk (Mini-Review)
Really like it. Very good size, covers most of my table. I enjoy the material as well as the looks. Comfortable under the arm. Also very good for speed and control. Sadly my cat made a few holes in it. Otherwise, love it. <3
28/06/2021
Haashir R.

Canada
Mousepad
Amazine, is a great quality mousepad, that allows me to play my games at a high level. Also repping Fnatic gear always feels nice!
04/06/2021
Anonymous

France
A very big mousepad for a very big desk
Stable and smooth to the touch. A nice glide with the mouse. Everything I expected from a good mouse pad. That being said, be aware that the mousepad reach deep into the desk, so be prepared to accommodate your desk accordingly Thank you Fnatic shop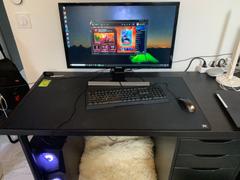 You are very welcome, super excited to hear that you are enjoying DASH!
2 year warranty on all Gear products
Free shipping on all orders over $100
5 days a week support and live chat