Big on performance, small in size. The STREAK65 is built for Esports. The 65% compact form factor has custom low profile Fnatic Speed Switches, with a familiar key press feeling and the award winning STREAK industrial design. Everything you need to perform, nothing more.
EU layouts [FR, NRDC, ES] will be available as a generic EU layout with a set of additional modifier keys the user must attach themselves. UK, US, IT, and DE layouts are already assembled.
Customer Reviews
Write a Review
Ask a Question
08/06/2021
Anonymous

Italy
I recommend this product
Perfect keyboard
Fantastic experience
03/06/2021
Mathieu B.

France
I recommend this product
Excellent trade off
The size of the keybord is really tiny. The feeling of the keys is excellent (even if the short course requires a learning curve), and the Fn key allows to acces function keys easily. Moreover, the keyboard is pretty silent.
02/06/2021
Anonymous

Italy
M
28/05/2021
MarkoH

Finland
Mahtava - Awesome
Tämä näppäimistö on kyllä erinomainen niin työkäyttöön kuin pelaamiseenkin. Itseä ensin mietitytti näppäimistön koko mutta aivan turhaan. Tämä on loistava. Myös kytkimet ovat aivan mahtavat. Matalat kytkimet toimivat omaan käyttöön, kirjoitustyyliin sekä sormille todella hyvin. Tuntuma on loistava. Näppäimistössä on kaikki ne ominaisuudet joita kaipaan ja koko sekä paino todella pienet. Painon ei pidä antaa hämätä. Omalla työpöydällä näppäimistö pysyy ainakin tukevasti. Muutoinkin näppäimistö on tukeva käyttää. Ei taipuile enempiä. Ledit ovat myös hyvät. Ohjelmistossa ei kamalan paljon kustomointivaihtoehtoja ole mutta on board paikkoja on neljälle eri ledi toiminnolle. This keyboard is very good. I use it work and gaming. Firs I wondering size but when I use it I like it moro and more. Swich works great and feels too. Weight is not problem.
19/05/2021
Davide L.

Italy
Tastiera Ultracompatta, accattivante e con degli switch incredibili!
Partendo dal packaging ben fatto e curato la tastiera appena la si prende in mano non ci si crede. È veramente piccola e compatta, senza però privarsi delle freccette come in altre tastiere di questo genere. L effetto rgb è completamente personalizzabile grazie al semplicissimo software scaricabile direttamente dal sito dei fnatic. I colori sono stupendi e attraverso numerosi effetti possiamo avere l illuminazione che preferiamo. Con i tasti funzione si possono fare numerose operazioni cliccando sempicemente due tasti, oltre ad esserci tasti personalizzabili e che possiamo imposturare come vogliamo. La pressione dei tasti è perfetta ed inoltre grazie agli switch proprietari basta davvero una leggerissima pressione per far partire il L input. Come ultima cosa L essere così piccola e compatta la rende trasportabile ovunque! La consiglio a tutti!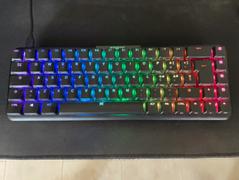 2 year warranty on all Gear products
Free shipping on all orders over $100
5 days a week support and live chat